RFSL 20K

---
20 km race course on the crystal white surface of the Salt Lake!
Get ready for a lifetime running experience on a path that out of this world!
10K, 20K, 40K, 80K and 100 Mile categories await for everyone from inexperienced runners to the Professional athletes.
---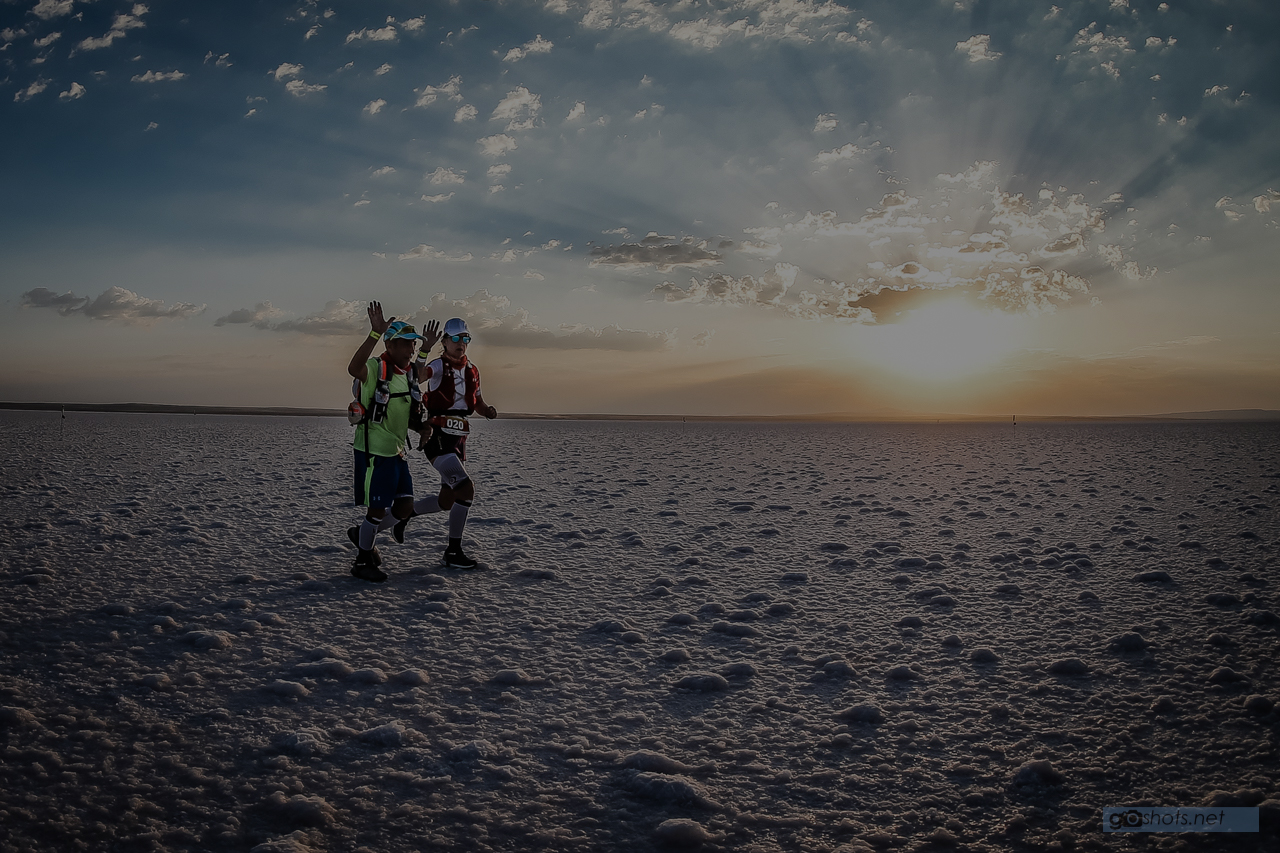 RACECOURSE
---
| | | | |
| --- | --- | --- | --- |
| Category | Start Time | Cut-Off Time | Cut-off Hour |
| RFSL 20k | Saturday 09:00 am | 4 Hours | 13:00 (pm) |
---
The racecourse of the Salt Lake is totally flat and there is no ascent or descent.

Runners are supposed to follow the course regarding the color code and the order stated on the graphic.

20K runners follow the blue line and turn back from the Checkpoint (CP 1). Then follow the same route and reach to the finish line.
RACE PROGRAM
GARMIN RUNFIRE SALT LAKE ULTRA TRAIL 2019
July 26th, 2019, Friday
10:00
Opening of the camp site
12:00 – 20:00
Registration & Delivery of Race Kits
12:00 – 14:00
100 Mile Pasta Party
16:00
100 Mile Technical Briefing
18:00
100 Mile Start
18:30
10K – 20K – 40K – 80K Pasta Party
20:00
10K – 20K – 40K – 80K Technical Briefing
July 27th, 2019, Saturday
06:00 – 07:00
Late Kit Delivery
07:00
40K & 80K Start
09:00
10K & 20K Start
10:30
Estimated First Finish (20K)
11:30
Estimated First Finish (40K)
13:30
Estimated First Finish (100 Mile)
14:00
Award Ceremonies (10K & 20K & 40K)
17:00
Estimated First Finish (80K)
July 28th, 2019, Sunday
08:30 – 09:30
Breakfast
10:00
Award Ceremonies (80K – 100 Mile)
10:30
Departure from the camp site
RULES & REGULATIONS

• The participation quota is limited with 1500 runners.
• Courses must be completed within the cut-off times given in the racecourse detail page of every category. Exceeding the time limit will result in disqualification.
• Participants have to stop by at the checkpoints of the given category. Not stopping by at the related checkpoints will result in disqualification.
• Participants will receive water and food (snacks) support at the checkpoints.
• There will be water support at checkpoints for every participant. All participants are supposed to get enough water. There will be a penalty if the runner gets a serum because of dehydration. (1st serum: 2 hours penalty, 2nd serum: 4 hours penalty, 3rd serum: disqualification.
• Participants are supposed to carry all the mandatory equipment stated in each category's detail page. The ones who do not carry the mandatory equipment will result in disqualification. Referees and staff have a right to check the mandatory equipment in anytime during the race. For any reason, lack of any mandatory equipment will result in disqualification.
• Runners must be minimum 18 years old. 
• Littering in the race course will be punished with 2 hours at the first time, and result in disqualification in case it's repeated.
• Participants are expected to fill in the form under the application tab on this website and deposit the fee for the relevant category for the registration to be completed. The bib numbers are obligatory to wear during the race and will be delivered at the registration desk on the indicated hours at the program.
• Cancellation and Refund policies are stated in the "Participation Fee" section.
• Registrations will be closes in July 22nd, 2019. After this date; no revision & change in the categories will be accepted. In case of reaching participation quota, registrations might be closed before the given date.
• 20K participants are not required to present health report.
• Organizers and referees hold the right to disqualify a competitor at any stage of the race in case there is a health issue.
• Participants who fail to present mandatory equipment at the controls before the race are subject to disqualification.
• The race requires high level physical and mental endurance. Thus, the competitors must be well prepared. Each runner signs a consent letter before the race.
• Professional rescue and health teams will be present during the race at all times. Ambulances and the medical teams will be on the designated points along the track. Medicals hold the right to disqualify a competitor in case there is a health issue. 
• The race director is responsible of the race track and management during the race. The map of the race course will be delivered to competitors before the race. The race course can be changed by the race director due to weather conditions or other reasons. Race director briefs the competitors on the final information before the race.
• Runners can commit their precious belongings and other belongings to staff before the race. These will be returned at the end of the race. The responsibility of the equipment that will be carried in the backpacks during the race belongs to the runner.
• No refunds will be paid in case of absence of the mandatory equipment or breaking any of the rules above and in case of disqualification by the referee decision. 
• All registered runners are responsible for collecting their race kits before the race. No kits will be delivered after the race.
• All registered runners are deemed to have accepted all of the race rules.


Disqualification:
Following situations will be resulted in disqualification.

• Not passing by the checkpoints.
• Littering in the racecourse (except the checkpoints)
• Shortcuts
• Not carrying the bib number and the chip system properly
• Refusing the health check or mandatory equipment check by the organizer
• Not carrying the mandatory equipment during the race.


All registered runners are deemed to have accepted all of the race rules.
PRIZES & CLASSIFICATION
• There will not be any Money prize in the race.
• All finishers receive a special race finisher medal.
• Runners who are ranked, will receive the trophy and special gifts from the organizer.
• Classification will be as follows:

*General (Men & Women)
*Women / Men Age < 35 (BD: 1985-2001)
*Women / Men Age 35 – 49 (BD: 1970-1984)
*Women / Men > 50 (BD: 1969 and before)

Paralympic Category
The classification for handicapped participants as follows:
1) Visual – Hearing – Upper extremity
2) Lower Extremity

All handicapped athletes will have special medal. Every athlete who ranked in 3 in each category will have the trophy.
REGISTRATION & FEES
Runfire Salt Lake Ultra 20K registration fees as follows:
| | | |
| --- | --- | --- |
| Early Reg. | Std. Reg. | Late Reg. |
| 04.02.19 - 31.03.19 | 01.04.19 - 31.05.19 | 01.06.19 - 22.07.19 |
| 200 TL | 230 TL | 260 TL |
* Paralympic category registrations are free.
Refund Policies
• Cancellation made before 01.04.2019 will incur a 20% charge.
• Cancellation made between 01.04.2019 - 01.07.2019 will incur a 30% charge.
• No REFUND will be made for the cancellation made after 01.07.2019.
Important points about entry:
• Registration to the organization is deemed to have been made by payment of the participation fee of the relevant category.
• Registration is only completed after the payment is made. 
• Participants have to present the mandatory equipment in order to collect the bib numbers.
• Registration fees or chest numbers cannot be transferred to another athlete.
• If it is desired to make changes in the categories after the final registration,
*A fee with a lower participation fee will not be charged for a pass.
*A charge difference is added to a categorization with a higher participation fee. The registration will be closed in July 22nd. Changes / transitions between categories cannot be performed after the registration is closed.

In case of reaching the quota (1500 participants), the registrations might be closed before the stated date.

Services Included in Participance Fee
• Race Kits
- Cloth Bag
- Bib Number
- Race Chip
- Tshirt

• Food services
- Pasta party (Will be given Friday, July 26th, 2019)
- Finisher meal box (Only for participants)
- Water, tea and coffee services will be free of charge during the open hours of the buffet.
- Hot water will be provided free of charge for those who wish the cook their own food.

IMPORTANT: Apart from the pasta party and the finisher meal boxes, there will NOT be any food options provided free by the organization.
• Accommodation
- Free camping area for individual tents (No individual tents will be provided by the organization.
Önemli notlar:
- Organizasyon tarafından bireysel çadır verilmeyecektir. Dileyen yarışmacılar kendi çadırları ile alana gelebilir ve kendilerine tahsis edilen alanda çadırlarını kurabilirler.
- Bireysel çadırlara ayrı bir elektrik hizmeti verilmeyecektir. Dileyen katılımcılar, büyük briefing çadırındaki ortak prizleri kullanabilirler.
- Organizasyon tarafından sağlanacak ücretli çadır servisi detayları, yarış öncesi bu sayfada duyurulacaktır.
• Health care services
• Security services
• WC – shower services

MANDATORY EQUIPMENT
Mandatory Equipment for 20K:

- Mobile phone
- Whistle
- At least 1 liter of water bottle
- Cup (There will NOT be plastic cups at the checkpoints and NO water will be given in plastic water bottles.)
TRANSPORTATION & ACCOMODATION
Transportation

- The race will take place in ŞEREFLİKOÇHİSAR area on the Salt Lake. 
- To reach to the campsite with your car, you can follow the marked point in the map: yandex.com.tr/harita/
- Transfer & Shuttle details specified below under the "TRANSFERS" headline.


Transfers
Airport transfer service fee for ONE WAY is 20 TL per person.
Transfer registration form will be online later on here.

July 26, 2019, Friday 
Arrival Transfers

12:00 | 15:00 | 17:00 Şereflikoçhisar Coach Station – Event Area
15:00 Ankara Esenboğa Airport – Event Area

July 27, 2019, Saturday
10K & 20K & 40K Departure Transfers

15:30 Event Area – Şereflikoçhisar Coach Station
15:30 Event Area – Ankara Esenboğa Airport

July 28, 2019, Sunday
80K & 100Mil Departure Transfers

10:30 Event Area – Şereflikoçhisar Coach Station 10:30 Event Area – Ankara Esenboğa Airport
Accomodation
- Athletes who want to stay in the camp site can bring their own tents and settled in the area reserved for tent accommodation by the organization.
- There will NOT be any "individual tent" provided by the organization.
- The organization will provide YORUK TENTS (6 to 20 pax) with an extra charge. All the details and the fees will be announced later on here.

Not: For individual tents, it is advised to bring sleeping mat and sleeping bag.
TIPS & SUGGESTIONS
• Although almost the entire route is flat, there will be grounds with irregular and variable hardness, so proper footwear selection and preparation process is very important. Air temperature and the length of the route are also important factors to be considered. The daytime temperatures in the region are about 33-35 degrees and the night temperatures are about 15 degrees. Proper material selection should be made taking into account the difference between day and night temperatures.
• In order to be successful in ultra-marathon, the next most important element of durability and condition is to have a proper diet before and during the race. The balance and strategy of nutrition during the race is as important as your physical endurance. It is appropriate to practice long courses. It is useful to practice running-walking alternatives while training.
• Walking / riding with a backpack puts a strain on different muscle groups. For this reason, at least a part of the training should be done with the backpack, preferably with the backpack to be used in the race, and with similar weight. It will be convenient to do preparation exercises with shoes and bags that you will use in the race.
• It is especially important to be accustomed to long exercises for the ultra-marathon category. At the start of the race, the body must be able to support a walk of at least 8 hours and fewer hops. If possible, training in the heat before the race may be important in terms of adapting the race.
• Strengthening of the back and back muscles is especially important when carrying bags.

Equipment Suggestions:
Shoes: Running or trekking shoes are recommended. In case of swelling and bandage, it is appropriate to wear 1-2 size bigger shoes. New shoes are definitely not recommended. It is recommended that you practice in the race with shoes beforehand.

Socks: Padded walking or running socks should be preferred. Having a separate sock for each day is suitable for foot health.

Hat and bandana: It is absolutely necessary to use a hat and / or bandana as it will be exposed to sunlight at high altitude during the marathon. Visor hats are recommended because it is also protective.

Sun Protection: Sunglasses are essential. It would be very difficult to complete these marathons without them. Sunscreens with high protective properties are absolutely necessary against exposure to high doses of UV rays.

Sleeping Bag: The region is expected to be accordingly.

Mat: The grounds can be stony and hard when camping. Therefore it is beneficial to bring a mat.

Food: In the ultra-marathon category, every runner is free to bring his/her own food. It is important to pay attention to salt intake. For this reason, it is recommended to consume plenty of salt and / or take salt tablets during the race. Food / nutritional supplements that are preferably intended to be consumed during running will be supplied by the runners and can be carried in backpacks.

Water Transport and Drinking Systems: Sufficient water will be provided at the control points. Drinking at intervals instead of drinking at once will be more effective and healthy. For this reason, water tanks should be preferred for hands-free running.
RUNNERS' LIST
(total: 591)
100 Mil (19)
Barış Yavuz
Mecit Çelebi
Aleksandr Kudriavtsev
Mustafa Kızıltaş
Özden Sertkaya
Şirin Mine Kılıç
Mahmut YAVUZ
Selçuk Akbaba
Ebru İney
Elshan Guliyev
nihat özen
Vesile Yılmaz Anatca
ferhat semiz
ferit Malkara
hüseyin polat
Rıza Martaş
Rafal Dziurka
Kerem Sadi Ekiz
İHSAN ŞAL

80k (16)
HÜSEYİN ALPARSLAN
İdris Tosun
Mehmet Ali Kiper
Salih Bulut
Onur Ozvarol
ALİ KAYTAN
Yasin Ünal
Mustafa Ortaç
NÜŞABE PAŞAZADE
YÜCEL ARSLAN
kıvanç ergun
Metin Özvarna
Emre Baykal
Oksana Riabova
Gizem Ceylan
TAMER KURT

40k (88)
volkan murat uzun
Meriç Aşer
Ahmet Şentürk
cem gül
Gamze Erdemir
suat ipekoğlu
burak uzun
AHU YETİŞ
mahmut akkus akkus
kemal bölükbaş
Ali Elgün
Ritvan KILIÇ
Hakan Karakaş
Hüseyin Doğan
Harun Erbil
Hakan Sahin
Süleyman Burak Ünal
Mehmet ali Uzun
Murat Esenoluk
erdem kalenderoğlu
Burak Abacıoğlu
Valeriya Vergilova Alipieva
Ekrem Taşkın
KADİR ÇELİK
levent polat
Sedat Kurtuluş
OSMAN TAYLAN KABAK
Orhan Bağlan
Bekir Muhsin Arpaözü
MERVE ARSLAN
Cengiz Yıldırım
Mithat Ulay
Emin Özmen
Semih Çokçeken
Pelin Şengün
ismail karacaoğlu
Hakan Erçay
CİHAN BAKİ KİŞİN
Erçin Baysal
Melih Önyer
Yasin Özcan
özgür özdoğan
Yonca Eroglu
Tuğba Kızgınçelik
Gulru Uyanir
Tuna Ozken
UĞUR PUSAT PUSAT
Refik Ayhan
Levent Kurtoglu
Serdar Özer
Onur Günduru
CEM İLGÜN
Zafer ÖZER
AYKUT CEYLAN
ömür çakır
Serpil Budak
MEHMET ÖZKASAP
Gökhan Özcan
Mehmet ÖNELGE
Ahmet Süha KILIÇOĞLU
Serhan Karatay
Sacit Ağca
Yusuf Biltekin
Sedat Serçe
Halil Oruç
Eyüp Kutluhan Doğan
Ayça Çömlekçiler
Yasemin Göktaş
Kamil UZGUR
MAHMUT BURAK AYDOĞAN
Francesco Boari
MEHMET ILGEN
DAMLA SONAT
FULYA ÖZEN
Renay Onur
ÖZGE ÖZÇEP
AKIN ESGİN
Suavi Noyan Kıran
Kamil İNAK
ERSAN TALI
Enginalp Leblebici
SERKAN SAKTANBER
mustafa uğur çolak
Özgür Arun
şaban doğan
Liviu Calin Nicoara
tuğber yaşa
Bayram Ülker

20k (290)
Murat Korkmaz
Şenay Demir
Engin Al
İlker Yorgancıoğlu
Özay TANRIVER
emıne kasap
Emrah Tunç
Ergin Baran
Caner Aksoylu
olcayto ezgin
mine ece
Doruk Bozbey
Derin Altan Altan
MUSTAFA ZAHİD YILDIZ
ERTUĞRUL ÖNEM
ECE ÖZKUL
Onur Murat İNAL
Elif Ece Küreğibüyük
Özgür Özmen
mehmet özgür özmen
Mustafa necip Dundar
Özgür Emre Gültekin
Ege Üzrek
Canan Karadaş
Gizem Koçyiğit
MELİKE AYAS
Zeliha İnci Asal
Murat Taştan
Reka Cansu Akçal
CENGİZ BABACAN
Kadriye Arslan
Özde Demirkoparanoğlu
Yusuf Levent Ozdemir
Deniz Cereb
Mehmet ERGÜL
Orkun Karagöz
Hande Coşkun
ÖZGE YEL
Zeynep İrem Küreğibüyük
Tarık Anbarcı
Sait Eryılmaz
kadriye nebioğlu
Birgül Ayasayar
Barış Güroler
AHMET HAKAN UNSAL
BARIŞ TİMURKAYNAK
Kürşat Karabulut
Derya Kılıç
Merve Üstündağ
Fatma DUMAN
Sercan Cetinel
Halil Kaynak
AYHAN DELİ
Necdet Akdas
Gokhan Urul
Mehmet Türkmen
Oğuzhan YİĞİT
ilker Yenice
Renata Eremeeva
Semih Ural
Esra Arıcı
YILMAZ AHÇIOĞLU
Cüneyt Polat
Erhan Kurt
atilla ersen öztekin
Koray Özdamar
Aslı Deniz Acun
FERİHA TÜLÜMEN
ÇAĞRI ÜNAL
Muhammed Hakkı Gündoğan
Mert Yalçın
ihsan vanlı
Zeynep Yüksel
ayla seçgin seçgin
hakan tugal
Melis Gülerdi
ÖZÜN KARAAHMETOĞLU
Erkan BACAK
Emirhan Battalcıoğlu
MUSTAFA KÜTÜK
YÜKSEL AYDOĞMUŞ
Yunus Emre Eminler
Enes Eminler
Burcu Ateş Ateş
Savaş Arson
Asli Vural Vural
Kim Berk Damsgaard
Taner Gündüz
Emre Başoğlu
Osman Ayar
Burak Karadağ
ozan demirdelen
Ayşegül Övünç
KARIN TIRASIN
bengü türk
Amelia Beer
MEHMET OKAN
EFE YAZICI
Zeynep Görpe
Fulya Kasıkcı
Sesil Sahin
Selma Kılıç
ali coşkun duyak
Havva Uzun
Ceren Sahin
Özgür Özcan
HAKAN DEMİRDAĞ
Adife Altınok
Tayfun Bingöl
Mehmet Pars Sezer
Emre Döğer
Özlem Işık
Fevzi Uzgişi
ANIL YAPRAKÇI
mehmet masum karaaslan
Yakup Gündür
Süleyman ÇETİNER
GOKHAN YASAN YASAN
GÖKNUR TOPALOĞLU
Osman Tıkansak
Süleyman Kara
Serkan Aksel
Avsin Kasikci
Özlem Yıldızer
Hasan Güder
Fatma Ovacik Sevik
Sinem Ozmen
Vedat Kalfa
Salih CIRGAN
Sefa Börekçi
Serhat Sezer
GÜLDAN KALEM
Yaşın anıl Bilensoy
İjlal Kılıç
Mükerrem Melisa Hazar Çallı
SAMİE TÜLÜMEN
Ozge Uzun
Selda Çavdar
MİNE ALADAĞ ALADAĞ
UFUK PUSAT
ERKAN KURAN
Süleyman Kara
Ozlem Ozturk
Alpay Guneralp
Osman Demirhan
YALÇIN ATAYLAR
DENİZ ÖZÇİFTCİ
Emircan Kaya
didem aydoğan
ceren deveci
nihat diler
Olgun Zeydan
Çağdaş özer
Özge Sönmezocak
İrfan Çelik
Nusret Erkan TOPÇU
Cem İsmail Değer
Serkan Ünlü
sercan albayrak
Elbeyi Karakoç
Murat Avcioglu
Caner Ertay
Merve Başdemir
NURAN BAYKAL
Emre Anıl KIMIL
Murat fahrettin Demirkan
Ali Osman ŞAPCI
Alper Başbay
Elif Dal
Umut ARAT ARAT
Elif Altay
Metin Alp
Aslı Duran Özcan
Sevim Özdemir
Sinan Gürsoy
Seyhan Erdem
BERKIT CETIN
Merve Hacıhasanoğlu
Ceyda Zaptikar
Yiğit Tuzcu
Rukan Sevgi
Merve ANSIZ
Hilal Torun
Yurtseven Bolatlı
Emirhan Çayan
Oktay Aksoy
Nihat Altınbaş
Emine Altınbaş
Cihan Ayger
Necdet Özkan
RIZA KÖSE
Fatih Duran
Altug Dincgor
Emre Bağdat
Serhan Çetinceli
Gülsen Koçak
MEHTAP SAYDAM
ceyda yıldız
MELTEM AYDIN
Aysel Aydın
AHMET MURAT BANA
BEYZA YÜCE
ZÜLFİKAR ALTUNAY
Ülkü Coşkunoğlu
Özlem Can Güngör
Cenk Kansak
emre mollaoğlu
Ahmet Çetin
Caner Gür
özgür baysöz baysöz
Kamil Gün
Zeynep Ançel
Ahmet Yıldıztaş
Bardia Khodabakhshi
Emin Emre Eren
Deniz eylem Serter
Bayram Yurdakurban
FATMA ÖZEL
PINAR ERDEM
Aziz Makhmudov
Ece Çelik
berk halil çetin
FIDAN CENAL
MERT DAMAR DAMAR
Önder Aydemir
Eren Şengün
CANER KOROGLU
Gökhan Kara
Ebru Ağva
Altar Ağva
GÜL ERDEMİR
EMİNE AYMELEK KOZİKOĞLU
BERNA BETÜL ÖZTÜRK
MELİKE DÜNDAR
Ali Tabak
irem Karakuş
Ahmet tamer Aker
EMİNE BAYRAK
Fatma Ülker Bircan
Ömer Bircan
Bülent Kara
Damla Gunkut
Zeynep Saglam
Fatma Cincinoglu
burcu kocavelioğlu
Hakan Örmen
Nilhan Ülkü
Alican CÖMERTPINAR
Tim Spurling
irfan altaş
Merve Gündüz Altaş
Ezgi Karaşin
Koray İroç
Çağlar YERGÖK
Büşra KARATAŞ YERGÖK
Uğur Ernalbant
Cansu Memis
MURAT DOYRANLI
cumhur fahri amasyalı
Gökçe Bilgin
Nurcan Arıcan
Firdes Mehmetoğlu
Çiğdem Çetinkaya
Vedat Yumşak
YASEMIN ÖZGAN
Hakan Kahramanoğlu
ulus SIĞIRCI
Nataliia Dvoinieva
Dmytro Serkov
Tuğba Hunili
Barış Akçalı
Huseyin Aktürk
AHMET ŞAHİNÖZ
Onur Ünal
Oray GÜNGÖR
Sarp Ünlütokmak
Salim Akdaş
YALÇIN BARIŞ POLAT
Murat Duman
Meryem Kılınç Gündoğdu
kadri çakal
Kerem Çamlıbel
Ali Özen
Meltem Alikan
Melih Eren Baran
Kaan Oflaz
ÇINAR UZUN
CEM ESER YOLA
IBRAHIM OZEREN OZEREN
Semin Özeren

10k (178)
Tarkan Geçgel
Sennur Zorer
burçak benli
Aybike Öztürk
Şeyma Cevizci
Pinar Bilican
Murat Şencan
Mehmet Bulca
Mustafa Yılmaz
Huseyin Keles
Damla Kadıoğlu
TUĞBA TAŞKIN
zeliha yeşil
Salih Aslan
Merve Aslan
Ozlem Aksel Basboga
Murat Basboga
Tuğba Ünlü Timurkaynak
Gazi Zorer
Doğan Yayalar
Musa Kurtulmuş
Sibel Demirel
ZÜLEYHA BATMAN
Meltem erol
Furkan Bayrak
Süleyman Birdal
Ozan Dağdelen
sıtkı GÖNEN
Selma Berk Damsgaard
Işıl Gündüz
AYSE BETUL KURTULUS KURTULUS
Asu Akat
Ozcan YILMAZ YILMAZ
Hikmet Dulundu
Nurcan Dulundu
Zülfin Güniz Manazoğlu
Ulaş Manazoğlu
Haydar yarayan yarayan
Fatmanur Sönmez
İsmail Adıyaman
EDA ŞENKAL
HAKKI MERTER PIÇAKCI
Gülsaran Ağaoğlu
Gürşah Çekiç
Nihan Nazel Özcan
ANIL TORAMAN
Elis Karadeniz
Mehmet Özbaydar
Aslı Özbaydar
Kerem Özbaydar
Nigar Gülsaran bal
Fırat Barlas
Duygu A
Ahenk Diner ulay
Eren Ulay
Uğur Işık
Muzaffer TAYLAN
Andaç Ayaz Çetinkaya
Tolga Soykan Çetinkaya
Çagatay Baydar
Yaprak İnal
Atilla Çalık
Nadira ODURAKAEVA
Özge Kale
ZÜLAL TOPÇU
Deniz AKBULUT
idil doğan
Mehveş Çorbacıoğlu
BARIŞ GÜLCÜ
Nevin Yaprak
Huriye ÖZÇİFTCİ ZEYBEK
DİLEK ÇETİNKOL
Elif Oymak
Özge Erbay
Serkan Atasoy
İnci Atasoy
CEREN KANLIÖZ
Erkan Öztürk
Meltem Gülcü
rabia ozer ozer
NAZLI KAYNAK
Beyhan Dönmez
Engin Pınar
ışıl göğcegöz
Elif ŞİMŞEK TOPÇU
songül albayrak
Tanyel Yalçın
BATUHAN ÜNAL
Ercan Kızılyar
Irem Balcı
Can Batur
zeynep ışık
Sezer Aydin
MUSTAFA ALDI
Nilay Tascioglu
çağrı özcan
Tuba TOK
Başak Ağdaş
Ayben Güvenç
YUNUS VARDARLI
ERDİ KILIÇ
Ayşegül Kenaroğlu
Balam Tuğba Yaşar
Songül ŞİMŞEK
Merve demet Gürpınar
Serap Işıklar
İnci Damla Çiyan
Azra Nihan Aykanat
Maral Sağbazar
Tuğçe Fışkın Genç
Yasin Genç
Esra kısa
melda köse
Ozlem Bahar Bagdat
Burçin Önalan
OYA FADILOGLU
LEVENT FADILOGLU
Jale Zheng
Yasemin Yıldırım
Gökçen Uslular
Duygu AKBULUT AKBULUT
Vedat Ülkü
Gizem Yıldıztaş
SİBEL DALGIÇ
ÖZGÜL DİZMAN
ONUR TEZEL
Altuğ NARİN
UĞUR İLBOĞA
Omer Uca
Aynur Andaç
Doğuşcan Öztaş
AYNUR KIRIMLI
canan adıgüzel
Serap Uzun
Sinan Şenok
DEREN YAZICI
NURSEL ILGEN
BURCU GÖKÇE
Hamza Oksal
TOLGA DENER
Kadriye Kerimoğlu
Burcu Akata Kurç
Ozgur Eryigit
Maria Belousova
Caroline Ellingham
MURAT TOKKACI
zeynep beyli
BILUN AYHAN
Erinç Giniş
Selin Coşar
Yasemin Çevik
Uraz Polat
Çağla Demircioğlu
ARAS ERDEM GÜZEL
Beril Kumsal
Kübra Yüksel
Necati KARABUCAK
Beyza Eryürek
dilhan özer
Eray Can Ateş
Bora Uysal
Salih Doğan
Ahu Selin Ay
sedat kesmen
Denizli Nilay
duygu hilal akca
Pelin Yetis
Handan Tuğce Kaygusuz
Lale Eymen Gülderen
Uğur reis Dülek
MERVE ÖZMEN
Füsun Yalçın
emrah gürol
Sinem Yalçınkaya
Dilek Konukcu
GONCA TAŞTEMİR
Buket Mutlu
Savas Koç

title 10
Yapım aşamasında...